Name: Roberto A. Contreras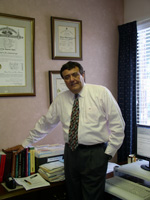 Education: Loyola University Business School
New Orleans, Louisiana
MBA 1984
Universidad Santa Maria La Antigua
Panama City, Republic of Panama
Degree in Law and Political Science 1981
Loyola University
New Orleans, Louisiana
B.A. 1976
Biography: After finishing his bachelor's work at Loyola University Robert returned to his native country of Panama where he studied law and political science, a five-year program, at the catholic university Santa Maria La Antigua. His thesis on Commercial Letters of Credit awarded him the title of Licenciado en Derecho y Ciencias Politicas in January 1983. That same year the Supreme Court of Panama granted his license to practice law, which he has maintained active.  During his years at law school Robert worked for McDonald's Corporation and for Mitsui Bussan Kaisha as a trader.  After presenting his graduation thesis he came back to New Orleans with his wife, Monica, where in 1984 he obtained an MBA with specialty in finance and management from his Alma Mater Loyola University.  The unstable political situation reigning in Panama at the time forced him to stay in New Orleans where he worked for seven years in local banks. In 1989 he took and passed the Bar exam and that same year the Louisiana Supreme Court awarded his license to practice law.  His first job as a lawyer was as in-house counsel and Vice-President in charge of Special Assets for Mr. Tom Benson's Pontchartrain State Bank.
Robert became an associate with the firm DeMartini, LeBlanc, D'Aquila & Volk, a Professional Law Corporation, in November 1991, and a partner in January 1997.  He remains in that position with the firm, now renamed D'AQUILA, CONTRERAS & VEGA, a Professional Law Corporation.  As a partner Robert is responsible for the retail collections effort of the firm. Although varied, his practice is specially concentrated in consumer and commercial collections, foreclosures of real estate, seizures of vehicles, and creditors rights in bankruptcy. He is a frequent speaker at seminars covering these topics.
Robert has practiced in the three federal districts of Louisiana, including their respective bankruptcy courts, the Fifth Circuit Court of Appeals 5th where he successfully represented his client, and in judicial district and city courts throughout the state. He has been a member of the American Bar Association, the Jefferson Bar Association, the Greater Covington Bar Association, and the Colegio Nacional de Abogados de Panama.
Robert has lived in Mandeville, Louisiana since 1989 with his wife Monica, where he is a long-standing member of the local Knights of Columbus chapter. They have two children, Cristina who attends Saint Scholastica Academy in Covington, and Julian who studies at Our Lady of the Lake in Mandeville.  Robert has been a coach at Pelican State Park since 2005. The family attends, and is active in Our Lady of the Lake Catholic Church, and are members of Pelican Athletic Club in Mandeville.