Name: John H. Thomas, Jr.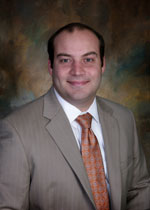 Education: Loyola University, School of Law
New Orleans, LA
J.D. 2007
University of Arizona, Eller College of Business
Tucson, Arizona
B.S. Finance 2002
Biography: John H. Thomas, Jr., a graduate of Loyola Law School, entered the practice of law in 2008 as a solo practitioner, where over a three year period, developed a general practice with a focus in both criminal defense and commercial collections.
In January of 2012, John joined the law firm of D'AQUILA, CONTRERAS & VEGA, a Professional Law Corporation, where he is currently an associate attorney focused in the practice area of collections, both consumer and commercial.
He was admitted as a member of the Louisiana State Bar Association in 2008, the United States District Court, Eastern, Middle and Western Districts of Louisiana, the U.S. Court of Appeals, Fifth Circuit in 2009 and the American Bar Association.
John is a native New Orleanian, attended Jesuit High School and currently resides in Lakeview.