Name: Charles P. Ciaccio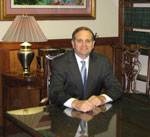 Education: Tulane University School of Law
J.D. 1980
University of New Orleans
B.S. Finance 1977
Biography: Charles Ciaccio, a graduate of Tulane Law School, entered the practice of law in 1980 as a prosecutor for the Orleans Parish District Attorney, where over a two year period, he prosecuted forty two jury trials and was a Senior Assistant District Attorney at the time of his departure for private practice. 
Charles then became a member of a three person law firm in New Orleans, with an extensive trial practice, both judge and jury, in Louisiana State Courts and the Federal District Court for the Eastern District of Louisiana, in areas of personal injury, worker's compensation, employment discrimination, commercial litigation, successions, domestic relations, and criminal defense.  Charles also engaged in transactional work and briefed and argued appeals before Louisiana State Courts of Appeal. 
Charles has been in solo practice since 1994 and in February of 2012 became a member of the firm D'AQUILA, CONTRERAS & VEGA, A Professional Law Corporation, where he is "Of Counsel" and engages in all areas of the firm's practice. 
Charles has served as President of the St. Dominic School Board, has been a member of the St. Dominic Parish Pastoral Council, and has served as President of the Lakeview Civic Improvement Association, where he also served as a board member for several years.  Charles was the founder and coordinator of Holidays on Harrison which began in 1995, and is a holiday celebration that continues to this day.  Charles was the founder and chairman of Lakeview Fest, which began in 2000, and is a neighborhood festival that brings together residents and local businesses of Lakeview.  Charles was awarded in 1999 the Outstanding Member Civic Award by the Contessa Entellina Society, and was a recipient of the Order of St. Louis in 1999, which is awarded by the Archbishop of the Archdiocese of New Orleans for leadership and dedicated service to church and parish.